Running an online business means working multiple hours outside of a normal brick-and-mortar business. You are responsible for managing sales as they happen, getting products shipped, invoicing, recording payments, managing inventory, handling customer service, and so much more. Tackling the administrative aspects of an online business can be the most time-consuming, which is why you might be considering outsourcing certain tasks, including bookkeeping. Let's dive into what bookkeeping means for your business, why you should consider a bookkeeper, the types of bookkeepers available, and bookkeeper cost.
Why Do I Need Bookkeeping For My Online Business?
Bookkeeping permits your business to have accurate financials, which can be used to determine how financially healthy your business is while also giving you critical data to make decisions about how much inventory to hold, growing your product line, or whether you can accelerate the growth of your business. Without an understanding of how much capital you have available or how your business is spending money, you lack a clear picture of what is possible or even if your business model is profitable.
Determining the budget for your next year, how much inventory to purchase based on sales, knowing how much you owe in taxes, and planning for the next fiscal year require accurate financial information to make the best decisions.
Tracking every transaction of your online business can be challenging, especially with multiple orders coming in throughout the day and all the other aspects of the business that you need to manage. By hiring a bookkeeper, you tap into a qualified expert who can meet the needs of your business by keeping your financial house in order.
Types of Bookkeeping
Bookkeepers can handle a vast array of tasks, but it is important to note that the more tasks you require from your bookkeeper, the likelihood that it will increase the price of their services. Many businesses opt for an online bookkeeping service since the monthly packages allow them to maximize the benefits of a bookkeeper for a consistent monthly price. Some services also allow you to customize your plan, assisting you to meet your budget and the needs of your business. Let's dive into what basic bookkeeping and full-service bookkeeping incorporate.
Basic Bookkeeping
A bookkeeper handling the basics includes the following:
Documenting every financial transaction, both income and expenses
Recording all debits and credits
Preparing financial statements (balance sheets, income, and cash flow)
Monthly reconciliation
Full-Service Bookkeeping
A full-service bookkeeper does all of the above and may do additional tasks, which can include different combinations of the following:
Sending invoices and processing payments
Maintaining and balancing a general ledger
Conducting daily banking activities
Completing payroll functions
Gathering receipts and data for tax preparation
Keep in mind, the more tasks you require from your bookkeeper, the greater the impact on the cost of that service. With that in mind, let's talk about the pros and cons of handling your own bookkeeping.
Can I Do My Own Bookkeeping? Pros and Cons
Growing your online business is exciting, but also means that the load of tracking your transactions and managing your financials is also increasing. With that in mind, let's talk about the pros and cons of hiring a bookkeeper for your online business.
The Pros
A greater level of financial experience in handling records
Fresh perspective
Assist your business in avoiding potential financial penalties by not having your books accurate and up-to-date
More time to focus on your business
Keeping your financials up-to-date and accurate is key for financing through lending institutions
The Cons
Hiring outside of your business increases the risk of exposing your data
Bookkeeper's mistakes are your company's mistakes
Potential hidden costs
When you look at the needs of your business, you might decide the pros outweigh the cons. Additionally, bookkeeping services continue to upgrade security features meant to keep your data safe. Still, the costs associated with bookkeeping services can vary from country to country. Let's explore those costs in greater detail.
What's the Cost of
Bookkeeping Services?
U.S.
Bookkeepers in the U.S. can be freelance or hired in-house, which can impact the cost of these services.
Salaried
A salaried bookkeeper in the U.S. makes within a range of $38,000 to $48,000 (as of June 2023), but this can vary from state to state.
Hourly
Bookkeepers in the U.S. make $28 on average (as of July 2023), according to ZipRecruiter.
Non-U.S.
The U.S. has labor laws and specific restrictions that can play a role in determining salary or hourly rates for bookkeepers. Outside of the U.S., these labor laws can vary greatly, along with the experience and education of the bookkeeper, so it is important to keep that in mind when determining the bookkeeper or bookkeeping service you opt to hire for your business.
Salaried
The salary will vary based upon location, education, and experience.
Hourly
The hourly rate will vary based upon location, education, and experience.
What are the Costs of Hiring an In-House Bookkeeper VS Outsourcing to a Bookkeeping Firm for Online Businesses?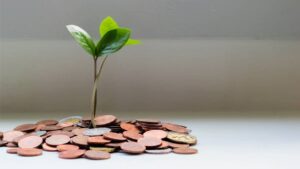 When you opt to hire a bookkeeper in-house, the costs associated with that include the following:
Recruiting and hiring
Onboarding
Benefits
Taxes
Ongoing training
All of these steps can cost your business financially and often make your bookkeeping a greater part of your budget. For an online business that works outside of the typical brick-and-mortar location, these costs might not be appealing. Outsourcing your bookkeeping allows you to achieve a fixed bookkeeper cost without the costs associated with maintaining a staff or other office resources.
What Factors Influence the Cost of Hiring a Bookkeeper?
What often influences bookkeeper cost is the number of tasks that you assign them and whether you opt to have them as an in-house member of your team or utilize a bookkeeping service. When you determine to use a freelancing service, then it is essential that you have a clear understanding of what is included and what you will have to complete yourself.
Where Can I Find Reliable Bookkeepers for Less?
There are a variety of sites geared toward providing bookkeeping services or a platform for you to connect with a freelance bookkeeper. Here are just a few for you to explore.
When you hire a bookkeeper online, either as a freelancer or a service, be clear about their experience and what you want them to complete each month for your business. If you are in need of catch-up bookkeeping, make your bookkeeper aware so that you can get a quote for that work to be completed. By working with a bookkeeper, your business benefits because you have accurate information to determine your current financial position and also a better understanding of its profitability.
Frequently Asked Questions
How do I pay online bookkeepers?
Generally, the bookkeepers will have a platform where you can pay an invoice for the work completed that month.
Are bookkeeping costs typically hourly or fixed?
If you hire a service, the costs are generally fixed. A freelance bookkeeper may work for a fixed price, or they may request an hourly rate if the amount of work varies from month to month.
Can I hire a bookkeeper on a part-time basis?
Yes, you can hire a bookkeeper for what you need. If your business transactions do not justify a 40-hour work week, you can opt to hire a part-time bookkeeper to handle your transactions. Just keep in mind, that as your business grows, you may need to revisit whether this is still a good fit.
Do bookkeeping rates vary based on location?
Yes, the rates will vary based upon location, experience, and education.
What Is AccountsBalance?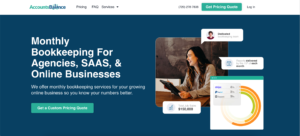 AccountsBalance is a monthly bookkeeping service specialized for agencies & SAAS companies.
We take monthly bookkeeping off your plate and deliver you your financial statements by the 15th or 20th of each month.
You'll have your Profit and Loss Statement, Balance Sheet, and Cash Flow Statement ready for analysis each month so you and your business partners can make better business decisions.
Interested in learning more? Schedule a call with our CEO, Nathan Hirsch.
And here's some free resources:
Final Thoughts on Bookkeeper Cost
Your online business deserves your time and energy, but that doesn't mean you should try to shoulder the bookkeeping on your own. Hiring a bookkeeper, either to join your team in-house or as a freelancer, can be a benefit to your business right now and in the long term. Additionally, bookkeeping services can provide custom plans that permit you to increase the options in your plan as your business expands. By hiring a bookkeeper for your online business, you create a foundation for growth and profitability.