Expanding your business is an exciting time as you see your time and effort paying off in growing sales and increasing profits. But that also leads to another challenge, which is how to keep up with all the transactions and keep your financial records in order. It might be time to expand your team with the addition of a bookkeeper. Before you hire a bookkeeper, let's discover what they do and how they can transform your business to reach the next level.
What is a Bookkeeper?
A bookkeeper is an accounting professional responsible for maintaining your financial documentation, including a detailed record of any purchases, sales, or other financial transactions. How they are recorded will depend upon the preferences and practices of your business.
Although the term bookkeeper is frequently used interchangeably with an accountant, the truth is that both have very different job descriptions. Your bookkeeper is the front line, managing the daily transactions that show how cash is flowing in and out of your business. Your accountant will look at the larger picture, generating reports, highlighting trends, and making projections that can inform your financial strategy. Yet, without accurate and detailed transaction histories, none of that analysis would be possible. Your bookkeeper is the lynchpin to make sure your financials accurately reflect your company's financial health.
Obviously, as your business grows, you have less time to devote to managing your financials. Yet without accurate financials, your business will have limited access to financing and investors. Let's dive into why hiring a bookkeeper could be the key to creating a solid foundation for long-term expansion.
Why Do I Need to Hire a Bookkeeper?
You are ready to stop spending hours on your accounting software every week and are definitely excited about prioritizing your time to focus on training and expanding sales opportunities. In a nutshell, hiring a bookkeeper for your business provides a level of freedom for you as the owner. Now your focus can shift to other areas of your business that need to be prioritized.
As your business grows, making decisions about what opportunities to pursue becomes more critical than ever. To do so, you need clear, accurate, and up-to-date financials. With that in mind, let's focus on what a bookkeeper can bring to your business.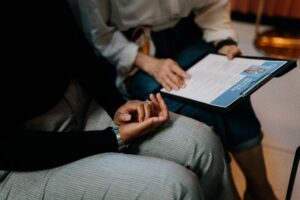 1. Financial Visibility: Gain a Clear View of Your Financial Health
To truly know whether your business is financially healthy or not, you need to have accurate records of all transactions. They are responsible for recording every financial transaction in your general ledger using a double-entry bookkeeping method. To gain the best picture of your financial health, it starts with maintaining accurate records. Additionally, your bookkeeper will also prepare your four key financial statements: income statement, balance sheet, cash flow statement, and statement of changes in equity. They also are up to date on current accounting standards, a necessary skill as they manage your general ledger.
Monitor Financial Metrics
Using those accurate financial statements, you can monitor key financial metrics, including expenses, inventory costs, sales, and payroll. With accurate statements, you can easily identify potential issues or notice trends where expenses are increasing and your accounts receivable have a large number of outstanding invoices.
Analyze Your Revenue and Expenses
Many industries have ranges for various expenses, which can help you to analyze where your expenses might be out of line. By having up-to-date financials, you can easily analyze your revenue and expenses, determining where additional streamlining or cost-cutting measures might need to be put into place.
Improve Cash Flow Management
With accurate financials, you can easily see the trends of how cash moves in and out of your business. As a result, you can make decisions about the best time to buy inventory, what expenses to take on throughout the year, and even if you are making enough during a typical month to cover all your expenses.
2. Accurate Reporting: Get Accurate Financial Reports and Statements
To make strategic decisions for your business, you need accurate financials, and that is where your bookkeeper comes in. They are the ones who follow through with getting transactions recorded and verifying the accuracy of all entries.
Prepare Financial Statements
Every month, your bookkeeper can prepare your financial statements, allowing you to see trends from month to month. If you are ready to speak with an investor, those financial statements will be an essential part of that discussion.
Reconcile Bank and Credit Card Statements
Your general ledger is not complete if it doesn't match up with the information you receive from your bank and credit card statements. Reconciling your bank and credit card statements every month gives your bookkeeper a clear picture of your financials, allowing them to share right away if your spending has significantly increased in one area or another.
Generate Custom Reports to Analyze Your Business
Do you need to highlight your debt payments or overhead expenses? Your bookkeeper can generate custom reports for your business, allowing you to analyze specific areas to uncover any potential weaknesses, overspending, or other potential issues that could slow your growth.
3. Time-Saving: Outsourcing Your Bookkeeping
As highlighted earlier, your job is to focus on the big picture, which is growing your business and making the best strategic decisions possible. By hiring a bookkeeper for your business, you are reclaiming valuable time and energy, which can be refocused for the benefit of your business.
Focus on Your Core Business Operations
No more toiling away for hours trying to figure out if your general ledger is accurate. Instead, you can use your financial statements to help you determine how much capital is available to invest in core business operations as your focus turns to growing your market share.
Avoid Tedious Bookkeeping Tasks
Data entry is time-consuming and tedious. By hiring a bookkeeper for your business, you turn that task over to a professional with attention to detail to keep your finances accurate.
Free Up Time to Build Your Business
Being a leader means understanding the art of delegation. One of the best reasons to hire a bookkeeper is to delegate tasks, so you can focus on building up your business and leading your team to success.
4. Tax Compliance: Stay Tax Compliant and Avoid Penalties
Everyone fears the IRS because non-compliance can result in tax penalties and fees, which has the potential to bankrupt a business. Here is how hiring a bookkeeper can help minimize those risks for your company.
File Your Taxes Accurately and Timely
First, by having your financial records up to date, your accountant can file your taxes accurately and on time. The result is greater compliance and making sure your tax liabilities are paid promptly.
Keep Track of Deductions and Credits
With accurate financials, your accountant can see where you qualify for deductions and tax credits, plus share with your bookkeeper what to track for the upcoming year.
Avoid Tax Penalties and Late Fees
Every business owner wants to avoid overpaying the government, but if your tax filings are not accurate, you could end up paying more than you expected in tax penalties and late fees. Your bookkeeper is the person your business needs to make sure everything is ready for your tax accountant while meeting all the filing deadlines.
5. Business Growth: Drive Growth with Better Financial Management
To make the best decisions for your business, you need to have a clear picture of your current financial health. Hiring a bookkeeper puts you in the position of having the most up-to-date information to analyze before you make critical financial decisions.
Develop a Financial Growth Plan
Are you looking to grow your business and increase your market share? With accurate financials, you can develop a financial growth plan, targeting areas where you want to see increased profitability. This data can also assist you in determining your budget for marketing, training, and expansion.
Optimize Your Financial Operations
Instead of trying to manage your financials, you optimize this aspect of your business by utilizing a professional with the right skill set. As you grow your business, your bookkeeper can assist you in setting processes and procedures for managing your finances as your company grows and develops.
Make Informed Financial Decisions
Finally, no matter what choices your business faces, you need to know whether it is a smart choice to make. When your business hires a bookkeeper, your financial information is accurate, giving you the data necessary to analyze and make informed financial decisions.
Strategizing for your business and its future becomes easier to handle with the right financial tools and experience in place.
6. Financial Advice: Get Valuable Advice from Your Bookkeeper
Your bookkeeper is familiar with what a healthy cash flow should look like, and they can be a source of advice about where spending might be unbalanced, giving you ideas on how to rein it back in. Here are some other ways your bookkeeper can also be a source of financial wisdom.
Get Expert Financial Guidance
If your bookkeeper has spent years in the accounting industry, they can provide financial advice. Working with a bookkeeper service, for instance, can give you access to CFO financial advice, thus benefiting your business during short- and long-term planning.
Seek Financial Advice for Business Opportunities
Considering a new business opportunity or expanding your product line? Your bookkeeper can give you the financial information about your business, so you can make the right decision for the long-term health of your company.
Access Industry-Specific Financial Advice
Bookkeepers can specialize in specific industries, which means they can tailor their advice to meet the needs of your business within its unique industry. You want a bookkeeper who understands how your business operates and the unique industry pressures that it might face to get the best possible financial advice.
What Is AccountsBalance?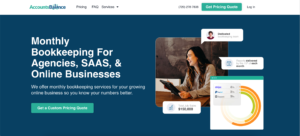 AccountsBalance is a monthly bookkeeping service specialized for agencies & SAAS companies.
We take monthly bookkeeping off your plate and deliver you your financial statements by the 15th or 20th of each month.
You'll have your Profit and Loss Statement, Balance Sheet, and Cash Flow Statement ready for analysis each month so you and your business partners can make better business decisions.
Interested in learning more? Schedule a call with our CEO, Nathan Hirsch.
And here's some free resources:
In Summary
Your business is growing and needs your firm hand on the helm. Instead of being distracted by keeping your financials updated, you have plenty of reasons to hire a bookkeeper. Regardless of whether you opt for an in-house bookkeeper, freelancer, or bookkeeping service, you can enjoy all these benefits and more. Your company is ready to go to the next level, and hiring a bookkeeper will help you reach it.