Growing your business means finding ways to add value without increasing your overhead significantly. Today, businesses are increasingly relying on outsourced services to get the expertise they require while maintaining their budget. Business growth often requires additional staff and overhead, but it can be difficult to determine if the growth is sustainable. Using outsourced services can provide a way for your business to grow without a significant investment. One area that can be outsourced effectively, thus freeing you up to build your business, is bookkeeping. Online bookkeeping services are not just about handling your accounting entries and creating your financial statements. They can assist you with payroll, paying outstanding invoices, and so much more.
Yet, not all bookkeeping services online are created equal. Many specialize in working with specific businesses and industries, which means they can bring a greater level of expertise to the services they provide. All of them are focused on providing tools that allow you to work smarter, not harder. Throughout this article, I will give you the information you need to find the right online bookkeeping service to meet your needs by sharing the 17 best online bookkeeping services for small businesses. Many of them offer tiered services, meaning you can grow your online bookkeeping services effectively, thus increase the ROI of this investment. With that in mind, look for an online bookkeeping service providing a mix of options which can cater to your current requirements, while also giving you tools to utilize as your business expands.
Best for: Small entrepreneurial businesses
Pricing: $299 monthly for the essential plan; $299 monthly for premium
Annual pricing plans are available
Description: Bench gives you an online platform providing accounting services, tax services, and one on one expert advice. They provide tools that make it easier for entrepreneurs to focus on their business, including catch-up bookkeeping, thus providing a great way to get your financial house in order before you woo your investors.
Best for: Franchises
Pricing: Based on your business' monthly expenses
Description: Xendoo utilizes dedicated CPAs to provide accounting services geared toward e-commerce and franchises. You can work with a dedicated bookkeeper, who specializes in these types of industries, building a relationship with you as they learn the ins and outs of your business. Looking to grow your business? Xendoo's team of professionals can assist you in building a strategic financial plan.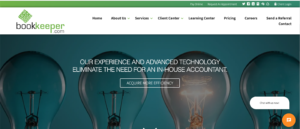 Best for: Small businesses with employees
Pricing: Based on gross revenue
Description: Growing a business means the payroll grows too. With Bookkeeping.com, payroll is a breeze, providing you the ability to outsource your payroll efficiently. Bookkeeping.com offers multiple options, allowing you to customize your plan to fit your needs. With its bill pay service, managing your cash flow has never been simpler.
Best for: Small Businesses using Quickbooks
Pricing: $190 per month
Description: Merritt Bookkeeping offers tax and bookkeeping services with an easy-to-use interface, providing cost-effective options for small businesses. They include monthly bookkeeping, along with options for catch-up bookkeeping to get your financials current.
Best for: E-commerce businesses
Pricing: Custom pricing based on transaction volume, number of bank accounts, and additional services as required.
Description: EcomBalance offers a dedicated bookkeeping team to work with you as your e-commerce business grows. With regular monthly reports and excellent support, this accounting services provides the tools for maintaining the financials of your online business.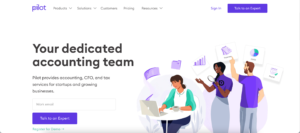 Best for: Startups and growing businesses
Pricing: Based upon monthly expenses and revenue generation
Description: Pilot provides accounting services, essentially fulfilling the CFO function for your business, thus giving you the opportunity to tap into expertise to create your strategic business plan. With R&D tax claim experience, they can assist your business in maximizing its R&D efforts, thus giving you opportunities to expand your business.

Best for: New businesses, growing businesses
Pricing: Tiered pricing
Description: No matter the current needs of your business, 1-800Accountant provides the options to fit your current status. With full-service accounting available, including bookkeeping to payroll, 1-800Accountant provides assistance in setting up your LLC and EIN for tax filings.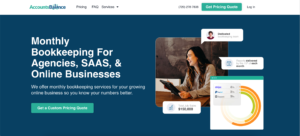 Best for: Agencies, SAAs, and online businesses
Pricing: Custom pricing based on transaction volume, number of bank accounts, and additional services as required
Description: AccountsBalance provides dedicated bookkeeping services, offering customized services to fit your needs. These options include bill pay, payroll, AR, AP, and monthly bookkeeping services. Specializing in the online industry, AccountsBalance supports your business while recognizing its unique challenges.
Best for: Small businesses in a growth phase
Pricing: Custom pricing based on business size
Description: Bookkeeper 360 provides traditional accounting and bookkeeping services, while also offering a CFO advisory option, which is useful for creating financial and business plans. Their expertise can assist in capital deployment and margin analysis, thus strategizing for business growth.
Best for: Accounting software and service for small businesses
Pricing: Custom pricing starting at $30 per month
Description: Quickbooks Live provides the benefits of Quickbooks software with a Live Bookkeeper. Assigned to your bookkeeper, who has 10 years of experience, you can access video chats for questions and support during the initial setup of your financials, weekly payroll, or tax season.
Best for: Small businesses
Pricing: Custom pricing based selected options
Description: FinancePal offers full service accounting, including tax preparation, monthly bookkeeping, and payroll. Their partnerships offer the best tech, expertise in a variety of industries, and quality customer service. Plus, FinancePal allows you to customize your level of service to fit your budget.
Best for: Growing businesses looking for CFO and controller functions
Pricing: Billed as a percentage of your revenue
Description: Providing a personalized approach, IgniteSpot gets a 360-degree view of your company to leverage the best possible financial solutions and identify opportunities for growth. In addition to bookkeeping and accounting services, IgniteSpot offers the option to outsource your controller and CFO functions. Their team specialized in certain industries, giving you access to years of financial experience.
Best for: Growing businesses
Pricing: Based upon bookkeeper reconciliations per month
Description: Sunrise offers a self-service option that is free for your business to use, which includes invoicing, credit card payments, and the ability to connect to your bank and record transactions. Ready to start working with a dedicated bookkeeper? Their plans allow for bookkeeper support, monthly closing of your books, and monthly reconciliations. They also offer customer support, including bookkeeper chats.
Best for: Independent contractors, small to medium-sized businesses
Pricing: Core and Pro programs available, pricing starts at $395 monthly
Description: Decimal recently acquired KPMG Spark's cloud accounting services, focusing on building accounting options for independent contractors and small to medium-sized businesses. With an operations-first approach, their goal is to improve processes and provide greater insight into your business by offering accounting and bookkeeping services, payable and bill pay, along with consulting services.
Best for: Companies looking to expand
Pricing: Various tiered and custom packages starting at $750 monthly
Description: inDinero offers bookkeeping and accounting services but also provides growing companies access to financial and CFO functions. Your company can expand in terms of product lines and increase staff without worrying if your accounting service can keep up. Plus, you have access to experienced accounting professionals with advice that can help you create a financial strategy to meet your needs.
Best for: Companies looking to expand their team, non-profit organizations.
Pricing: Customized based on services
Description: Like most of these services, Belay offers accounting services, including bookkeeping and tax services. They also provide a team, including a talent acquisition consultant and financial specialist. With a focus on non-profit organizations, Belay provides a team with unique knowledge regarding this type of financial planning and marketing.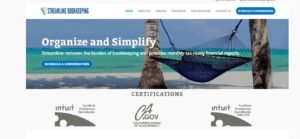 Best for: Small businesses with 1 to 10 employees, non-profit organizations
Pricing: Custom pricing
Description: Streamline focuses on small businesses, including attorneys, chiropractors, freelancers, and non-profits, by providing bookkeeping and accounting services. They provide regular meetings to discuss your company's financial position, while also creating monthly financial reports based upon your bank and credit transactions. Streamline offers personalized service for small businesses with quality customer service and responsiveness.
In Summary
No matter how big your business is or whether you are ready to expand, there is an accounting service out there to meet your needs. These 17 online bookkeeping services focus on small businesses, catering to your unique needs by providing custom options to address specific areas within your business. When you own a small business, it can be challenging to run your business and be the CFO. Many of these services offer that option and so much more. Today's businesses do not have to struggle with managing their bookkeeping and accounting. By choosing one of the best bookkeeping services available, your business can truly thrive!