With your business growing by leaps and bounds, bookkeeping is taking up a larger portion of your weekly routine. You are ready to pass on this task to an expert, one who can make sure everything is categorized appropriately while also making sure that your financials are accurate and up-to-date. Let's dive into why you should hire a bookkeeper for your online business and how to make sure they are the right fit for your needs.
Why Should I Hire A Bookkeeper For My Online Business?
There are multiple benefits to hiring a bookkeeper, especially as your online business grows. Hiring a bookkeeper permits your business to have accurate financials, which can determine how financially healthy your business is and provide critical data about how much inventory to hold, growing your product line, or whether you can accelerate the growth of your business. Without an understanding of how much capital you have available or how your business is spending money, you lack a clear picture of what is possible or even if your business model is profitable.
Determining the budget, how much inventory to purchase based on sales, knowing how much you owe in taxes, and planning for the next fiscal year require accurate financial information to make the best decisions. Additionally, having accurate information about your sales can make it easier to determine which opportunities for expansion you should pursue. Tracking every transaction of your online business can be challenging, especially with multiple orders coming in throughout the day and all the other aspects of the business that you need to manage. By hiring a bookkeeper, you tap into a qualified expert who can meet the needs of your business by keeping your financial house in order.
Can I Do My Own Bookkeeping? Pros and Cons
Growing your online business is exciting, but also means that the load of tracking your transactions and managing your financials grows as your customers shop and tell their friends. Plus, if you opt to handle your own bookkeeping, then you run the risk of falling behind due to distractions from other aspects of your business. With that in mind, let's talk about the pros and cons of hiring a bookkeeper for your online business versus doing the bookkeeping yourself.
The Pros
A greater level of financial experience in handling records
Fresh perspective
Assist your business in avoiding potential financial penalties by not having your books accurate and up-to-date
More time to focus on your business
Keeping your financials up-to-date and accurate is key for financing through lending institutions
The Cons
Hiring outside of your business increases the risk of exposing your data
Bookkeeper's mistakes are your company's mistakes
Potential hidden costs
The challenge with doing your own bookkeeping is that as it becomes more complex, your lack of experience and expertise could leave you making mistakes and putting your business at risk of fees and fines. While hiring a bookkeeper might seem like a big step, in the long run, it could provide a number of benefits for your business, particularly as you expand. Still, you might be unsure how to move forward in the hiring process. Here are a few tips for how to find and hire the right bookkeeper for your needs, be it in-house, freelance, or a service.
Tips on How to Find & Hire the Best Bookkeeper
When you are ready to hire a bookkeeper, it can be tempting to hire the first person you come across, but that could lead to greater challenges for your business. With that in mind, let's talk about how to successfully hire a bookkeeper to fit the requirements of your online business.
1. Determine Your Bookkeeping Needs and Budget
The first priority is to determine the tasks you want your bookkeeper to complete. Then determine how much you want to spend on bookkeeping tasks per month. Remember, the tasks you opt to handle yourself can reduce the cost of your bookkeeping, but the more tasks you handle yourself, the more you decrease your ability to spend time expanding your sales and other critical areas of your business.
2. Consider Outsourced Bookkeeping Services
If you have a good idea of your budget and needs, then consider whether a bookkeeping service can provide what you need within your budget. Many services have multiple tiers of services, allowing you to find the plan that works for your business.
3. Research and Evaluate Bookkeeping Service Providers
Take the time to research bookkeeping service providers. Each offers different plans and options, along with areas of specialization. By taking the time to research your options, you can evaluate whether a service will meet your current and future needs based upon what they offer.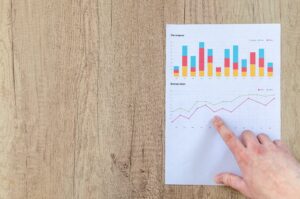 4. Assess Expertise and Industry Experience
Do they have experience with online businesses? If a bookkeeping service doesn't have experience and industry expertise, then you might find that they struggle to understand and categorize your transactions effectively.
5. Read Client Reviews and Testimonials
As part of your research, read the reviews and testimonials from other business owners. Specifically, look for reviews from online business owners. Learn about their experiences with the bookkeeping service and whether they will continue working with them. Our team has done several reviews to assist you in learning what various services offer and where they specialize.
6. Evaluate Technology and Software Compatibility
What type of bookkeeping software do you currently use? Can you migrate easily to the bookkeeping service, or will you need to learn and work with new software? Some services offer proprietary software, so if you have to move your bookkeeping to another service at a later date, you may have to pay for moving your data to a new software. Additionally, you want to know if they can connect with your bank or online pay platforms.
7. Inquire About Security and Data Privacy Measures
What type of security measures do they have in place to protect your data and maintain your company's privacy? With privacy laws becoming more complex, it is important that your bookkeeping service can meet these standards to avoid potential issues for your online business down the road.
8. Discuss Communication and Reporting Channels
How will you communicate with your bookkeeper? Many online services offer you the option of a dedicated bookkeeper, who you can contact via email, phone, chat, or text. Keep in mind, that there may be some limits regarding how frequently you can contact them throughout the typical month. Others offer support through an online help center or their various blogs.
9. Request Sample Work or a Trial Period
With many bookkeeping services today, you have the benefit of a free month, which allows you to try out their service without risk to you or your online business. During that time, evaluate how well they manage your transactions, whether they meet their deadlines, and if you have any issues. This also gives you a sample of the quality of their work, which can assist you in evaluating whether they are right for your business.
10. Compare Pricing and Payment Terms
To be clear, you need to read carefully what each service is offering in the various pricing tiers before choosing the tier for your business. One service might seem to be a better deal, but what they offer might not cover everything your business needs. Additionally, make sure you understand the payment terms. Some platforms offer annual payments, while others offer monthly payment plans. In some cases, paying annually can give you a discount, which could benefit your budget long-term.
11. Check for Professional Certifications and Associations
What type of education is required for their bookkeepers and accountants? When you check for professional certifications and associations, you get an idea of what they specialize in and whether they are experienced in working with online businesses, such as yours.
12. Seek Recommendations from Peers or Business Networks
With several options in place, it might be difficult to determine which is the right fit for your needs. Talk with members of your business network or other professionals who own and operate online businesses. They can provide insight into what bookkeeping services worked best for them and which ones fell short.
13. Conduct Interviews or Consultation Calls
Ask to meet with your prospective bookkeeper, and have questions ready. Are they prepared, or do they seem to be fumbling when responding to your questions? Interviews or consultation calls can be a great way for you to get a sense of whether they offer what your online business needs and whether you can work with them for the long-term strategic benefit of your business.
14. Clarify Expectations and Scope of Work
This tip takes you back to step one. When you know what you need your bookkeeping service to handle, then you can clearly articulate it to the team. They then can let you know specifically what they offer, and both parties are clear about the scope of work. If you are not clear on your expectations, and they do not share their expectations with you, then both sides can be left feeling frustrated, which impacts the quality of your working relationship. Additionally, if you cannot meet their expectations, you can make it difficult for them to meet key deadlines.
15. Finalize a Service Agreement or Contract
Be sure to review your service agreement or contract, so you know what your responsibilities are and whether you can transfer to another service if necessary. Additionally, make sure that you know what will be covered and that the price reflects what was discussed during your interviews.
16. Monitor and Evaluate Performance Regularly
Make it a point to have a regular meeting with your bookkeeper at least once a quarter. Evaluate whether your bookkeeper is meeting expectations and meeting deadlines. If you find they are not performing as expected, outline what you need to change. If it doesn't, then you might need to consider moving to another bookkeeping service.
17. Communicate Openly and Address Concerns Promptly
Know how you can communicate with your bookkeeper and what is the timeframe you should expect a response. If you have a concern, address it promptly and directly. This can allow for corrections to be made right away and keep you from having multiple issues that need to be corrected.
Clearly, hiring an online bookkeeping service, it is critical to do your homework and understand what the service offers your business. Also, you need to do your part to maintain the relationship, thus making sure that your financial accuracy is reflected in your reports and that any issues are addressed quickly. The benefits of hiring a bookkeeping service also mean you can tap into expertise and experience over the long term.
Where Can I Hire a Bookkeeper?
If you are ready to hire a bookkeeper, consider whether you want to hire a freelance bookkeeper or a bookkeeping service. Multiple platforms offer you options to find the right expertise and experience to fit your needs. Here are just a few of the different platforms and services that also offer bookkeeping for online businesses.
Once you decide on a bookkeeper, it is important to get them the information necessary so they can get started in managing your bookkeeping. As your business grows, continue to meet with your bookkeeper throughout the year to make sure that it is still the right fit for your needs. Here are a few of the questions online business owners ask before determining the right bookkeeping option for you.
Frequently Asked Questions
Should I hire an in-house bookkeeper or consider outsourcing?
Hiring an in-house bookkeeper comes with additional expenses related to recruiting, hiring, onboarding, benefits, taxes, and training. However, there is the benefit of keeping your data in-house, which can reduce potential security risks. Outsourcing your bookkeeping can give you the benefit of additional experience and expertise but also a fixed price that fits your budget. Picking the right fit will depend on your current needs and how much of this work you want to take on yourself.
What are the typical pricing structures and payment terms for bookkeeping services?
There are several pricing options available depending on the service. Most offer different monthly tiers with fixed costs for additional services. Others offer custom pricing based upon the number of transactions or sales per month.
What steps should I take to ensure the security of my financial data?
Ask your bookkeeping service about its security measures. Make sure that you keep your anti-virus software updated. Also, manage passwords and limit the number of users who can access your data.
What Is AccountsBalance?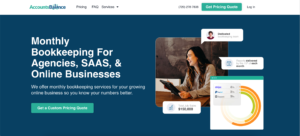 AccountsBalance is a monthly bookkeeping service specialized for agencies & SAAS companies.
We take monthly bookkeeping off your plate and deliver you your financial statements by the 15th or 20th of each month.
You'll have your Profit and Loss Statement, Balance Sheet, and Cash Flow Statement ready for analysis each month so you and your business partners can make better business decisions.
Interested in learning more? Schedule a call with our CEO, Nathan Hirsch.
And here's some free resources:
In Summary
Choosing a bookkeeping service for your online business is a big step. By taking advantage of the tips above, you can find the right fit for your business and make sure that you have the right level of expertise. Additionally, doing your research can assist you in making sure the service will fit your budget. Doing so can create a foundation to expand your online business.