Wondering how to segment your ad campaigns to optimize your marketing budget and generate real growth for your business? Here's everything you need to know about maximizing your ROAS (Return On Ad Spend) with paid ads. 
As a business owner, your digital marketing budget is one of your most valuable assets for growing your business, and it's essential to get the greatest return you can for every dollar you spend. One of the most effective ways to do that is by segmenting your ad campaigns to target buyers at specific points of the buying journey, also known as the conversion funnel.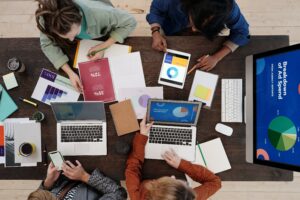 Understanding the Conversion Funnel
As a business owner, you're probably familiar with the conversion funnel. Understanding the stages a buyer experiences from learning about your brand up to the point of making a purchase will help you determine what marketing strategy to use to target buyers at every point along the journey. The three stages of the conversion funnel include:
The Awareness Stage (Top of the Funnel)

The Consideration Stage (Mid Funnel)

The Decision Stage (Bottom of the Funnel)
As business owners, it's common to focus our efforts (and marketing budget) at the top of the funnel and simply hope that the leads will trickle down the funnel, ultimately converting into loyal clients. However, it's not quite that simple.
In order to maximize your return on ad spend, you need to target buyers at all levels of the conversion funnel–that means buyers who haven't heard of you yet, ones who are familiar with your brand, and others who are very well acquainted with your brand. Think about it: you wouldn't target someone who has already added your product to their cart with the same advertisement as someone who is learning about your brand for the first time. Each level in the conversion funnel requires a unique ad campaign strategy. 
Return on Ad Spend vs ROI
In the world of digital marketing, you might feel inclined to focus on ROI (Return on Investment) as opposed to Return of Ad Spend. However, when measuring the success of your ad campaign, it's more effective to look at ROAS, rather than ROI. ROAS isolates your ad spend while ROI looks at the larger picture, including extra factors such as operating costs. Ultimately, ROAS is the best metric to use because it gives you a more focused look at what's working in your ad campaign and what's not.
How to Target Top of Funnel Buyers
The top of the funnel, also known as the awareness stage, is the point in the buyer's journey when they become aware that they have a need and begin looking for a solution. Thus, for buyers at the top of the funnel, the goal of your ad campaign is simple: to increase awareness about your brand and how you can solve a problem they have.
The top is the largest point in the funnel, and your goal should be to generate as many leads as possible. This will serve two purposes: First, to increase the overall number of sales as more prospective buyers enter the funnel. Second, to increase overall brand awareness, which will make your brand more appealing to future prospective buyers. After all, research indicates that the average buyer needs to have come into contact with your brand at least 7 times in order to even feel inclined to make a purchase. 
Here's how to maximize your ROAS with paid ads for buyers at the top of the funnel:
Understand Your Audience
One of the best ways to maximize your return on ad spend with paid ads at the top of the funnel is by performing in depth research about your audience. Understand their pain points, what websites they typically consult for information, and what type of solution they are looking for. Creating a buyer persona for your top of funnel buyers is a helpful way to really understand who you are marketing to and how to create ads that are specifically targeted to them.
Use Display Ads
Display ads are an effective choice for top of the funnel buyers because their purpose is to create awareness by targeting a vast audience across a large advertising network. The Google Display Network, for example, reaches over 92% of all internet users. To maximize your ROAS using display ads, it's helpful to rely on your buyer personas to narrow down your ad reach to the most relevant demographic.
Create High Level Content 
At this stage in the buyer's journey, your goal should be to create high level, problem solving content. Now is not the time to offer in depth information about your product or even the problem itself. Buyers at the top of the funnel are looking for general information about their problem and learning about possible solutions. Presenting yourself as a trusted source on the subject will help you gain credibility with the buyer and encourage them to continue their journey through the conversion funnel.
Improve Your SEO Strategy
At the top of the funnel, one of the most important goals of your ad campaigns should be to focus on being discoverable. Hone in your SEO strategy to improve where your website lands in search results. Remember, at the top of the funnel, you're trying to cast your net as widely as possible, and that means the more exposure, the better.
How to Target Mid-Funnel Buyers
In the middle of the funnel, also known as the "consideration stage", buyers are already aware that they have a problem and are narrowing down their options to solve it. In this stage, your goal is to show them that your company is the solution they're looking for. 
Retargeted Ads
One of the best ways to target a mid funnel buyer is through the use of retargeted ads. Often a visit or two to your site just isn't enough to convince a potential buyer that your product is the answer, and other times, they just need some time to think about it. Retargeting buyers as they visit different websites is one of the most effective ways to secure a mid-funnel buyer–in fact, retargeted ads are 10 times more likely to generate a click through than display ads (0.7% click through rate as opposed to 0.07%). 
Create In Depth Content 
One of the best ways to target a buyer at this point in their journey is by creating useful content while presenting your product as a solution. The good news about mid funnel leads is that they are actively looking for a way to solve their problem–you simply need to show them that you have the answer. 
Blog posts, webinars, how-to guides and other resources are particularly useful for buyers in this stage of the conversion funnel. In all of your content, make sure to address the buyer's pain point that led them to your site. Helping your buyer feel understood is one of the best ways to build credibility with your buyers and encourage them along the conversion funnel.
How to Target Bottom of Funnel Buyers
The bottom of the funnel, or the decision stage, is perhaps the most important step in the conversion funnel. At this point, buyers have moved beyond simple awareness and interest and are ready to make a purchase. The bottom of the funnel is where a prospective buyer becomes a paying customer. These buyers already know who you are and how you can solve their problem–they simply need a little extra encouragement to make their purchase.
Use Branded Search Keywords
Branded search keywords, or keywords that directly connect to your business, are one of your most useful assets for targeting bottom funnel buyers because the use of these keywords indicates that these buyers are ready to commit. Create specific landing pages, CTAs, and ads that will make it easy for bottom funnel buyers to finalize their purchases.
Create Ad Groups
One of the most effective tools you have to target bottom funnel customers is ad groups. Ad groups are clusters of ads designed to target buyers who have searched for a particular keyword. These ads are extremely targeted but powerful at creating conversions, which is ideal for bottom of the funnel buyers.  
Target Cart Abandoners
Cart abandoners, or prospective customers who fill a cart but leave without making a purchase, are some of the most lucrative bottom funnel buyers to target. Whether they simply became distracted, decided to look at your competitors, or wanted time to sit on the decision, cart abandoners are gold mines and you should create specific ads to reel these buyers back in. It's hard to beat the return on ad spend you'll see from this group.
What Is AccountsBalance?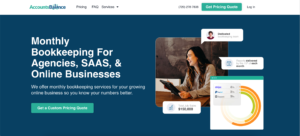 AccountsBalance is a monthly bookkeeping service specialized for agencies & SAAS companies.
We take monthly bookkeeping off your plate and deliver you your financial statements by the 15th or 20th of each month.
You'll have your Profit and Loss Statement, Balance Sheet, and Cash Flow Statement ready for analysis each month so you and your business partners can make better business decisions.
Interested in learning more? Schedule a call with our CEO, Nathan Hirsch.
And here's some free resources:
About the Author
Leo Ebbert is an experienced digital marketer, former CPA, and the founder and CEO of Exact Click Digital, a digital marketing firm that has driven over 1,000,000 conversions since its founding. After launching his career as a CPA at Deloitte, Leo pivoted to digital marketing and has never looked back. Now, 15 years and over 500 million dollars in total sales later, he and his team also run CPA Digital Pro, a CPA firm marketing agency that is on a mission to help CPA firms add 5-10 high value clients to their portfolio every year.