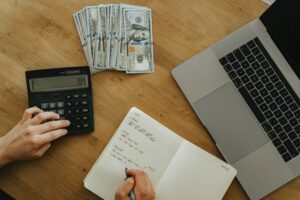 Let's talk about monthly bookkeeping services. Your stacks of receipts and deposit slips are piling up, but you are not sure where to start with reducing that pile. While it might intimidating to get started with the bookkeeping for your business, it is possible with the right software to ensure your financial data is accurate and up-to-date. With that in mind, let's talk about what monthly bookkeeping involves and why it is so critical to the long-term success of your business.
What Is Monthly Bookkeeping?
Monthly bookkeeping involves taking all the transactions from that month, categorizing them, and inputting them into your accounting software. Then the accounts are reconciled by comparing your list of transactions with your bank and credit card statements. Finally, financial reports are run to give you current financial statements, thus allowing you to complete analysis and determine the overall financial health of your business.
Why is Monthly Bookkeeping Important For My Business?
Regular monthly bookkeeping is key to understanding whether your business is profitable or not. You can also analyze spending to determine what categories might need to be trimmed or where your budget might need to be adjusted. As you analyze your updated financials, you can also see where sales are coming from to decide what products should be expanded or which ones should be eliminated. If you are looking for capital to expand, having updated financials are key to getting financing for your business from different financial institutions. You also have the ability to review your cash flow, balancing out expenses from quarter to quarter.
When an effective bookkeeping system is in place, businesses have the knowledge and information to allow them to make the best financial decisions. Tasks, including establishing a budget, planning for your fiscal year, preparing for tax filing, and establishing your investment strategy, are all easier to accomplish when financial records are accurate.
With that in mind, let's focus on a few of the key benefits you enjoy with regular monthly bookkeeping.
What Are the Benefits of Monthly Bookkeeping Services?
Here are a few of the benefits of monthly bookkeeping, which incorporates a number of tasks critical to your finances and understanding your financial health.
Accurate and up-to-date financial records
Timely tracking of income and expenses
Improved financial decision-making
Easy identification of financial trends and patterns
Efficient tax preparation and compliance
Better cash flow management
Reduced risk of errors and financial discrepancies
Access to comprehensive financial reports
Improved financial transparency for stakeholders
Enhanced financial planning and forecasting
To enjoy these benefits, you must have a set of processes in place to handle your bookkeeping tasks in a timely manner. Proper planning and scheduling are key to accomplishing multiple components, including:
Recording every financial transaction
Sending invoices and processing payments
Preparing financial statements
Maintaining and balancing a general ledger
Conducting daily banking activities
Many businesses opt to tap into the expertise found through bookkeeping services to meet their monthly bookkeeping needs. Here are what those services offer and how they can align with your company.
10 Monthly Bookkeeping Services & Pricing
Pilot
This company works with thousands of startups, ranging from small businesses to hundred-person teams, providing accounting for professional services, e-commerce, and startups.
Features
Monthly bookkeeping, inventory tracking, tax prep, and CFO advisory functions
Pricing
Starting at $499/month billed annually
Bookkeeper.com
This online service offers a dedicated team of bookkeepers and accountants to provide high-quality bookkeeping services for small businesses, online companies, and professionals.
Features
Monthly bookkeeping, payroll, tax, bill pay, financial planning, and dedicated bookkeeper and account manager
Pricing
Starting at $399/monthly
Bench.co
This company provides small businesses with dedicated experts and easy-to-use financial software. Your business has a dedicated in-house, professionally-trained bookkeeper, along with a research team to provide informed answers to complex questions.
Features
Monthly bookkeeping and financial statements, expense overviews, year-end tax package, tax advisory support, and catch-up services
Pricing
Starting at $299/monthly
AccountsBalance
With an online bookkeeping service, AccountsBalance provides strong processes that can keep your business on track. They focus on providing these services for agencies, SAAS, and small businesses while becoming an integral part of your team. Plus, your dedicated online bookkeeper will get all your payment processors, bank accounts, and credit cards integrated into Quickbooks or Xero.
Features
Monthly bookkeeping and financial reporting, catch-up bookkeeping, and integration with multiple applications
Pricing
Fixed monthly price based on revenue
KPMG Spark
Acquired by Decimal, this company provides accounting operations for small- and medium-sized businesses. They also provide technology setup/support and other accounting services.
Features
Monthly bookkeeping, paying bills, invoicing, and data integration
Pricing
Starting at $395/monthly
Merritt Bookkeeping
This online bookkeeping service also offers accounting and tax prep, while also providing a platform for clients to use without going into Quickbooks. They also can work with your CPA to provide the information needed for tax filings and more.
Features
Offers easy user interface, issues 1099s, automatic bank statement retrieval, fundamental business insights
Pricing
Starting at $199/monthly

inDinero
This accounting and bookkeeping company provides a reliable guide for bookkeeping and accounting while offering insightful counsel. Their goal is to give you the tools for budgeting, forecasting, cash flow management, and strategic planning.
Features
Payroll, account reconciliation, CFO services, tax planning and filing
Pricing
Starting at $750/monthly, custom plans available
Bookkeeper360
This online bookkeeping service provides dedicated bookkeepers, offering a team-based approach to ensure you get the knowledge and expertise necessary for your business.
Features
Bookkeeping, payroll, tax, and CFO advisory, work directly with your tax professionals, HR services, and back-office duties
Pricing
Starting at $399/monthly, offer hourly rates for custom services
Ignite Spot
This accounting service takes the time to get a 360-degree view of your company, working closely with your team to find the best possible financial solutions while also creating and analyzing month-end financial statements and reconciliations.
Features
Virtual bookkeeping services, processing invoices, bill payments outsourced CFO services, controller oversight
Pricing
Starts at $417/monthly
EcomBalance
At EcomBalance, they offer monthly bookkeeping services for growing eCommerce businesses selling on Amazon, Shopify, Walmart, Ebay, and more. Their goal is to become an integral part of your team with proven processes that provide a foundation for your business.
Features
Monthly financial analysis, regular financial statements, findings & recommendations, catch up bookkeeping, integrate sales channels and tools with Quickbooks Online or Xero
Pricing
Fixed pricing based on yearly revenue, number of bank accounts, and number of sales channels
Tips on Picking the Right Service for You
To pick the right service for you, it is important to look for options that fit the needs of your business based on your industry. Research what they offer, what tasks you want to outsource, and the pricing for those services. When comparing services, be sure that you are comparing similar options, otherwise, you might find that you are missing key elements.
Additionally, it is essential to know whether you will be dealing with the same bookkeeper from month to month or if you will have a team working on your financials, as well as the communication channels available.
Frequently Asked Questions
Can I do my own bookkeeping? While you can do your own bookkeeping, having a bookkeeping service means you tap into the financial expertise of certified bookkeepers to meet the needs of your business.
How do monthly bookkeeping services differ from annual or quarterly bookkeeping services? Monthly bookkeeping services keep your financials updated and accurate while reducing the risk of mistakes or transactions going unrecorded.
What tasks are included in monthly bookkeeping services? Categorizing and recording all financial transactions for your business, monthly reconciliation, and creation of your financial statements. Depending on your bookkeeping service, other tasks can be incorporated as well, including payroll, invoicing, and payment management.
Can I customize the services included in monthly bookkeeping? Based on the company you choose, you may have the option to add other services and customize your experience.
What Is AccountsBalance?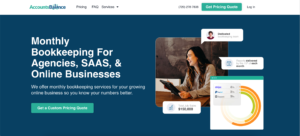 AccountsBalance is a monthly bookkeeping service specialized for agencies & SAAS companies.
We take monthly bookkeeping off your plate and deliver you your financial statements by the 15th or 20th of each month.
You'll have your Profit and Loss Statement, Balance Sheet, and Cash Flow Statement ready for analysis each month so you and your business partners can make better business decisions.
Interested in learning more? Schedule a call with our CEO, Nathan Hirsch.
And here's some free resources:
Final Thoughts on Monthly Bookkeeping Services
Monthly bookkeeping services can help to take data entry tasks off your plate, allowing you to focus on growing your business while keeping your financials updated and accurate. Choosing a monthly bookkeeping service also means you avoid the costs of catch-up bookkeeping. With a monthly bookkeeping service, you also can maintain your compliance, thus avoiding potential penalties and fees related to your tax liabilities. By hiring a bookkeeping service, you give your business a solid foundation for the future and put processes in place to keep your financials accurate and timely.