With GoDaddy announcing that it will no longer provide bookkeeping services as an option to its customers, many current clients are wondering what options are available, both for initially migrating their online data and for tracking their expenses and income moving forward.
While it can be challenging to transition your bookkeeping to new accounting software, there are plenty of options that can make the process easier, as well as offer some benefits that can assist with the collaboration between you, your bookkeeper, and your accountant.
Let's explore some online bookkeeping options available and their features so that you can make an informed choice for your business.
1. QuickBooks Online
Quickbooks offers multiple online bookkeeping options for a variety of businesses, allowing you to utilize multiple tools to track your transactions.
They also offer the option of bookkeeping services in addition to their online software.
Additionally, Quickbooks can provide a direct eBay integration, which can assist in automizing the importing of your transactions
Features
Quickbooks offers a variety of features meant to streamline the accounting processes and provide insight into business performance.
These features include invoicing, expense tracking, bill management, tax management, report generation, project management, sales tax calculation, and e-commerce management.
They also provide the ability to connect with your bank and credit cards, so transactions are automatically fed into your bookkeeping and categorized, thus reducing the potential for errors.
Quickbooks offers over 230 customizable and industry-specific reports, as well as inventory tracking and pricing automation.
Pricing
The pricing for Quickbooks Online starts as low as $15 a month, but with multiple options available, businesses can access both software and bookkeeping with cost-effective pricing.
2. FreshBooks
Freshbooks is an online accounting software that provides options for businesses of various sizes.
It also provides a platform for collaboration and payment portal, thus giving you multiple ways to feed transactions directly into your bookkeeping software.
Features
Freshbooks offers multiple features geared to fit the needs of small and medium-sized businesses.
These features include invoicing, expense tracking, time tracking, client estimates and proposals, custom reporting, team collaboration, accepting online payments, and a customer self-service portal that allows customers to see their invoices, estimates, and work requests online.
There are also add-ons, including payroll and the ability to connect with specialists who can answer your questions.
Pricing
Pricing for Freshbooks reflects your business model, such as freelancers, self-employed, businesses with contractors, and businesses with employees. The pricing starts at $17 a month, but pricing is customizable based upon the needs of your business.
3. Bench
With Bench, you have accounting software that also gives you access to dedicated bookkeeping and accounting professionals, thus providing your business with the tools necessary to manage your company's finances effectively.
Features
Bench Accounting offers several features and benefits to its clients, including actual, dedicated bookkeepers, interactive financial statements, helpful visual reports, historical and monthly bookkeeping, cash flow, expense tracking, financial reporting, integration with third-party payment applications, and a cash flow management tool called Pulse.
Plus, you can easily connect your bank and credit accounts, allowing them to feed transactions into your accounting software automatically.
With Bench, you also have access to software that offers invoicing, payment tracking, and payroll. They also provide assistance with preparing for tax season.
Pricing
With Bench pricing starting at $249 monthly, you can customize your plan to meet the current needs of your business while also providing options as it expands.
4. Pilot
Pilot offers its clients many of the options of traditional accounting software, but it also gives you access to the professionals and tools that can assist you with managing the financial aspects of your business.

Features
Pilot features a dedicated bookkeeper, automatic transaction import, accrual-based accounting, monthly financial reporting, burn rate calculations, payroll, balance sheet reconciliation, a standard chart of accounts, and connections to your bank and credit cards.
There are also additional features provided in the different levels of plans, allowing you to customize your plan to fit the current and future needs of your business. They also can provide CFO and tax services.
Pricing
Pricing for Pilot is based upon your monthly expenses and paid annually. There is also an onboarding process, which includes a one-time fee equal to one month of bookkeeping.
5. AccountsBalance
AccountsBalance provides a bookkeeping service that meets the needs of your business, including categorizing transactions, monthly reconciliations, and financial reports with strict deadlines.
Features
Geared towards online businesses, agencies, small businesses, and SAAS, AccountsBalance provides quality and consistent bookkeeping services with regular monthly reporting, along with dedicated bookkeeping staff. They also offer options to allow for catch-up bookkeeping to be completed.
Pricing
Starting at $299 a month, AccountsBalance pricing is based upon the size and complexity of your business.
6. Zoho Books
Zoho Books offers a variety of features with its accounting software while providing affordability and easy online access. It is a good entry-level accounting application with several plans available.
This software is designed for freelancers, sole proprietors, or new businesses.
Features
The Zoho Books software offers automated workflows, bank reconciliation, custom invoices, expense tracking, projects, timesheets, recurring transactions, and sales approval.
It also includes a dashboard where you can view metrics, including receivables and payables, as well as income and expenses for the year. You can also integrate multiple payment options, create a client portal, and manage inventory, depending on what plan you choose.
Pricing
Zoho Books does offer a free option for businesses with revenue less than $50,000 a year. Its standard plan starts at $15 a month and offers options to include additional users, thus allowing you to share access with your bookkeeper and accountant.
7. Xendoo
Xendoo is a cloud-based accounting and bookkeeping platform that specializes in providing virtual accounting solutions for small businesses geared at supporting business growth.
Features
With an impressive range of features, Xendoo is an excellent choice for small business owners.
The platform offers bookkeeping done by a team of dedicated CPAs, including monthly financial statements, reconciled accounts, dedicated bookkeepers, automated transactions, integrations with your existing accounting software, year-round business tax services, business coaching, and customized reporting.
With monthly reporting, you can identify areas where you need to make changes while also receiving accurate financial data and insights.
Pricing
Xendoo starts at $395 a month for business with less than $50,000 in monthly expenses. Plus, they offer various options, allowing you to scale up to meet the current and future needs of your business.
Frequently Asked Questions
What is bookkeeping, and why is it important for my business?
Bookkeeping is where all financial transactions are recorded, categorized, and reconciled. A bookkeeper is primarily responsible for tracking all financial transactions, but they can also assist with invoices and tracking payments.
This is critical for your business to determine its financial health, as well as have accurate financials when valuing your business or applying for financing and credit.
Do I need to hire a professional bookkeeper, or can I do it myself?
While you can do it yourself, as your business grows, it can be essential to have a bookkeeper who can handle managing your financial recording to avoid falling behind or missing critical transactions, thus leaving you with incomplete records or an inaccurate picture of your financial health.
What is the difference between bookkeeping and accounting?
The distinction between accounting and bookkeeping is subtle but essential. Bookkeepers record transactions on a day-to-day basis.
Accountants focus more on the big picture and make long-term strategic financial decisions.
Essentially, bookkeepers line up all the small pieces of a company's financial records, while accountants view and arrange those pieces.
What Is AccountsBalance?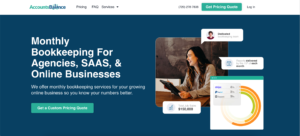 AccountsBalance is a monthly bookkeeping service specialized for agencies & SAAS companies.
We take monthly bookkeeping off your plate and deliver you your financial statements by the 15th or 20th of each month.
You'll have your Profit and Loss Statement, Balance Sheet, and Cash Flow Statement ready for analysis each month so you and your business partners can make better business decisions.
Interested in learning more? Schedule a call with our CEO, Nathan Hirsch.
And here's some free resources:
In Summary
When it comes to finding the right accounting software option to fit your needs, it is important to focus on the features that align with your business model, particularly in terms of integrating payment options for online retail companies.
By exploring your options, you can find the right option to help you move to the right long-term software option to meet your bookkeeping and accounting needs.