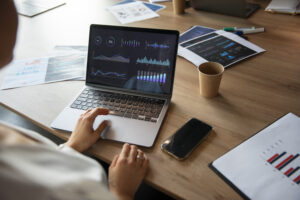 What is Financial Reporting?
Running a business involves knowing how to grow your market share and determine what has worked in the past while still making adjustments to meet future needs. Financial reporting gives you the ability to do just that by communicating your financial activities and performance over specific time periods. Companies use financial reports to organize their accounting data and report their financial status accurately. Let's dive into what financial reporting looks like and its benefits for your business, as well as the best financial reporting software available today.
What is the Primary Objective of Financial Reporting?
There are several objectives of financial reporting, such as the following:
Provide information to the investors and potential investors
Track the cash flow
Assist in financial analysis and planning
Show how management is performing and the strength of your team
Enable the analysis of your assets, liabilities, and the owner's equity
However, the primary objective of financial reporting is to provide useful information, track cash flows, and deal with liabilities. Putting together your financial reporting can be challenging, especially as your business grows and the number of transactions increases. Let's look at how accounting software can assist in this process.
What Are the Benefits of Financial Reporting Software?
Financial reporting software can be a valuable tool for businesses, regardless of their size. It assists in automating the process of creating financial reports, which can save time and reduce errors. Financial reporting software also provides insight into a company's financial health, which can help to inform decision-making. Here are some of the benefits that you can enjoy through financial reporting software:
Improved accuracy – This software can help reduce errors in financial reports by automating many of the processes involved in creating them.
Increased efficiency – By automating many of the processes involved in creating financial reports, financial reporting software can help to save time and increase efficiency.
Compliance – Financial reporting software ensures that your financial reports comply with accounting and reporting standards.
Better decision-making – Financial reporting software offers insights into your financial health, which can play a role in your decision-making.
Flexibility – This software can be customized to meet the needs of your company.
Integrated financial reporting software helps make financial reporting, including generating financial statements, more accurate and timelier through automated processes, allowing resources to be redeployed for analysis and action. But what type of reports should be a part of your financial reporting?
What Are the Key Types of Financial Reports?
Financial reports are essential for conveying your company's financial performance and business activities. The key types of financial reports include your financial statements, notes to accounts, director's reports, auditors' reports, prospectus, and corporate governance reports.
Financial statements and other types of financial reporting are used to determine financial health, compliance, and earnings potential.
The 5 Best Financial Reporting Software Tools on the Market in 2023
Finding the right financial reporting software tools for your business means understanding the needs of your business and industry financial reporting requirements. Let's dive into the 5 best financial reporting software tools on the market and what makes them stand out from the crowd.
1. Xero
Xero offers financial reporting that is easy to customize while offering you formulas to compare your budget versus actuals.
2. Cube
Cube financial reporting software is designed with an intuitive interface, allowing you to sync data from source systems to your spreadsheets.
3. Board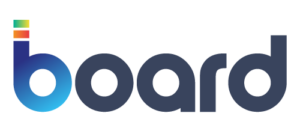 Board provides financial reporting, along with intelligent planning for your financial future. It also offers simplified monthly reporting cycles and consolidation to elevate your financial insights.
4. Oracle NetSuite

Oracle Netsuite offers one system for both accounting and financial reporting, allowing for weekly cash projections, key performance indicators, and a financial overview.
5. FreshBooks
Freshbooks incorporates financial reporting as part of its accounting software, along with offering options for self-employed individuals, freelancers, businesses with contractors, and businesses with employees.
What are the Benefits of Using Financial Reporting Software?
Financial reporting provides businesses and management with insights into their current assets and liabilities, but there are other benefits, including the following:
Identifying trends
Managing cash flow
Enhancing debt management
Managing various problems through credit and loan management
Tracking accounts, which helps with liquidity management
Strategic business planning
Clearly, there are multiple ways that you can utilize accurate financial reports to expand your business while being fiscally responsible. Financial reporting is a tool that can assist in building your company's foundation and maintaining its stability over time.
Frequently Asked Questions
Is Excel a financial reporting tool?
Yes, Excel is a widely used tool for financial reporting, valued for its versatility and extensive capabilities. It can be used to create customized reports, track financial performance, and identify trends.
Which accounting software is best for a financial accountant?
There are several accounting software options available for financial accountants. The choice of software depends on various factors, such as the requirements of the accountant, business size, and other desired features.
What is the best financial software for a small business?
Keeping track of finances is crucial for the success of any business. There are several accounting software options available, but it is important to find one that meets the needs of your business model and industry requirements.
What Is AccountsBalance?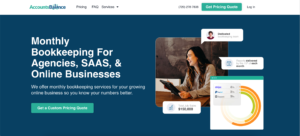 AccountsBalance is a monthly bookkeeping service specialized for agencies & SAAS companies.
We take monthly bookkeeping off your plate and deliver you your financial statements by the 15th or 20th of each month.
You'll have your Profit and Loss Statement, Balance Sheet, and Cash Flow Statement ready for analysis each month so you and your business partners can make better business decisions.
Interested in learning more? Schedule a call with our CEO, Nathan Hirsch.
And here's some free resources:
In Summary
Financial reporting is critical for understanding how your business is performing, identifying trends, and making adjustments to reflect the changing economic realities of your industry. By finding the right financial reporting software, you can create the right reports to meet your needs and keep you in compliance. Your business can also benefit from accurate reports as you make strategic decision to build a solid foundation for the future.