Hey, thanks for tuning in to another Partner Interview at AccountsBalance.
My name is Connor Gillivan. I'm the CMO and an Owner of AccountsBalance.
We're on a mission to help 1,000+ businesses better understand their numbers, and industry partnerships is a big way that we're able to make it happen.
We're all about creating win-win partnerships where we are able to grow with other companies in the agency, SAAS, and online space.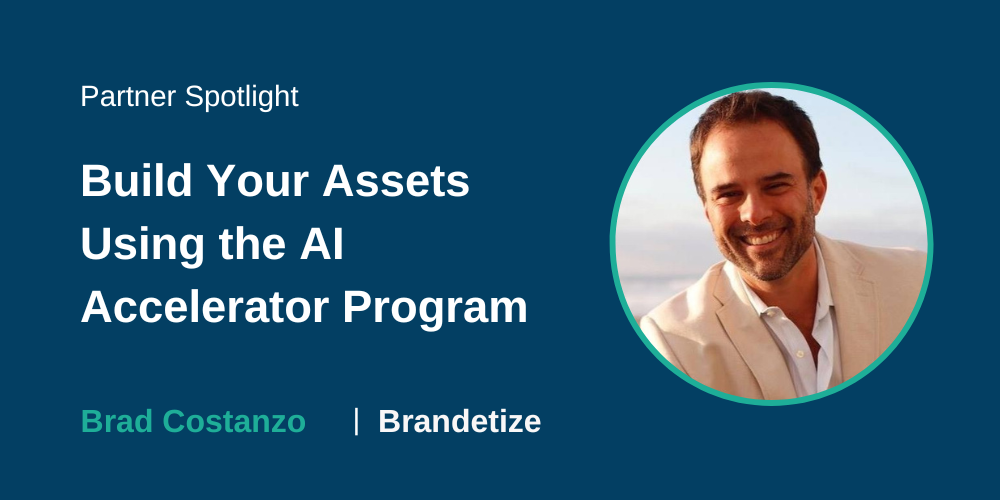 In this exclusive interview, we interview Brad Costanzo from Brandetize.
Brad Costanzo is the Head of Strategy & Chief AI Officer of Brandetize. For him, business principles are simple, however running a business can be complex. Brad helps businesses and entrepreneurs simplify growth without stress or overwhelm with innovative marketing strategies.
His clients refer to him as a "catalyst" who can "see around corners" and spot the non-obvious but simple business opportunities that create leverage and most importantly results.
We hope that you enjoy the interview and that it brings value to you as an agency business owner. 
Connor: Hey Brad, thanks for taking the time to chat with us here. We love getting to know our partners better so that our community can benefit from what our partners are offering and doing in the industry. To get started, can you give us a high-level overview of Brandetize and how it got started? 
Brad: In 2001, Brandetize was founded by Eric Berman and Rob Poling out of a pursuit to manage all of the marketing channels for world-renowned author, speaker and thought leader, Brian Tracy. We exceeded every goal we set and, soon, others were asking us to do the same for their business.
Although we do not work exclusively with expert-led businesses and have a wide variety of clientele, we're known as the premier marketing agency to help experts build their empires and establish thought leader and authority status while maintaining a healthy and growing business.
Connor: That's awesome! Can you dive a bit more into the methods for success that you offer for your clients? I'm sure our audience would love to know exactly what problems you could solve for them. 
Brad: As a full stack marketing agency and business accelerator, we offer a combination of creative solutions married with proven direct response marketing to help our clients create awareness, authority and revenue.
Connor: Jumping off of that…if there was one problem you'd say that Brandetize solves best for your clients, what would it be? Why? 
Brad: The biggest problem with help them solve is a lack of differentiation. Through our methods and a little marketing magic, we help them cut through the noise and establish a clear distinction in their business and offerings versus their competition so that they can grow faster and make more money while impacting more people. 
Connor: As the company continues to grow over the next year, what are your plans for expansion? Any new products or offerings or enhancements to your current services? 
Brad: We have our own in-house products and services in addition to helping our clients. One of them is an AI accelerator program for instance and we've been using our own resources to build our own assets
Connor: And how specifically would you say that Brandetize and your team is different from other similar businesses in the industry?
Brad: There are a lot of marketing agencies who offer services to businesses of all types, but because we focus on expert lead businesses who often sell intangibles, we consider ourselves the best in the world at amplifying expertise profitably.
Connor: What made you decide to get involved in digital marketing? What's your starting online business story? From what we've found, a lot of business owners in the digital marketing space have fun stories of how they first started…
Brad:  I started in digital marketing in 2008 with the simultaneous launch of both a publishing business and a software business (unrelated businesses by the way).  And as I grew both and then sold them to investors, I began consulting and investing. 

I personally stepped into Brandetize as a partner and the Head of Strategy/Chief AI Officer in 2022. 
Connor: Love it! Talking more about the online business industry, where do you see it going in the next 1-2 years? Any unique predictions that you could share? 
Brad: The online industry is exploding although it's rapidly changing as a result of the proliferation of AI tools to completely upend the workflow and creative possibilities. 
Connor: Giving you an open mic for a minute, what is something you'd want the AccountsBalance audience to hear?
Brad: AI has helped so many businesses break through creative and productive bottlenecks but because it can be used as a crutch, especially in marketing, it takes real attention to detail to create world class content and product using it and competing with the increasing level of noise. 
Connor: Changing gears a little bit…When it comes to bookkeeping and accounting, what do you think the biggest pain points for business owners are? Feel free to speak from personal experience as well. 
Brad: Cash flow management and profitability are the biggest aspects I see most business owners overlook.
Connor: As we close this out, I just have one more question. Where is the best place to find and follow you and the company online? Also, if you have one, is there any special offer that you'll be offering to the community today? 
Brad: You can find me personally at BradCostanzo.com and at Brandetize.com I also host a podcast called BaconWrappedBusiness.com