Looking for the best accounting software for real estate investors? You've come to the right place!
Your business takes time and effort to build, but as it grows, your financials also require more attention. Unfortunately, the amount of time you have to focus on your financials seems to be non-existent. Taking steps to make the process easier, many small businesses turn toward accounting software. When you tap into accounting software, as a business owner, you now have tools to create financial statements, track expenses, and understand where your business stands. Let's dive into what accounting software can do for your business and the options available based upon your specific industry.
What can accounting software do for my small business?
Accounting software gives you a place to track and categorize your transactions, such as expenses and income. Depending on your software choice, your business can also use it to issue invoices, track payments, and pay bills to vendors. With all your transactions categorized, you can run reports that identify trends in spending and turnover within your properties. With that knowledge, you can capitalize on trends to benefit your portfolio while also identifying areas to streamline your spending. Other businesses identify areas where they can become more efficient in their maintenance processes, thus reducing their labor costs by limiting the time spent on these tasks. Interestingly, your accounting software can identify where your business has grown enough that you need to hire additional team members, such as a bookkeeper. Businesses also utilize the reports to identify what they are currently spending for insurance or other overhead, with the goal of shopping to see if they can find coverage at a better price. Clearly, your accounting software does more than provide a record of your transactions. It also gives you the data to analyze where your business is financially healthy and where changes might be necessary.
What are some of the best accounting software for real estate investors?
Real estate accounting software needs to be easy to use while also having specialized features like tenant management, rental management, and maintenance tracking. However, a full-fledged accounting software system with features like invoicing, project accounting, location tracking, and project management might provide the right options for you. Here are a few of the best accounting software for real estate investors and what they can offer your business to manage it effectively.
Quickbooks offers a variety of accounting software options, but their online version has outstanding general bookkeeping features. It gives you the ability to track income and expenses by class and location with its advanced plans. With its payment integration, you can schedule e-payments automatically to keep your payments on time to positively impact your credit rating. Another benefit is that it offers mileage tracking and receipt capture, which can make it easy to categorize travel expenses as you visit properties within your portfolio. A con of this software is the lack of integrated property management features. However, you can allocate invoices and expenses under a tenant to make it easy to track profit and loss by property.
This software includes tools to assist in tracking performance, managing expenses, and viewing tenant records. You can also use this software to snap pictures of receipts and then assign them to specific properties, making it easy to track expenses by each property. There are also over 1,000 third-party apps that can be connected to Xero, making it easy to adapt to your real estate business needs. For instance, Landlord Studio works with Xero, allowing you to track your properties, leases, accounts, maintenance, and more.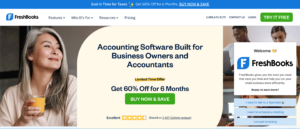 Freshbooks offers the basic accounting tools in its software, but for real estate investors, it also provides tracking and accounting tools for categorizing expenses by property. Additionally, it includes project management options, such as the ability to record time, share updates, and manage your team. This software also provides different payment options from a list of major card companies. You can also generate invoices automatically, which makes sending them to your tenants easier. Freshbooks also offers late payment reminders and late payment fees, which can be built in to make sure you are paid what you are owed. Additionally, Freshbooks provides the option to automatically bill a tenant's credit card. While it doesn't offer property management tools, Freshbooks does provide a variety of options to address billing, payments, and expense tracking.
Wave is regularly on our list of best accounting software for a reason. It is free forever for unlimited users, making it a great option for you to work with your team to record expenses and transactions related to your properties. You can also connect it to your bank account, making it easy to important debit or credit card transactions. This software also allows for automatic monthly payments. However, it does not give you the option to track P&L by property or offer property management features. You can generate month-to-month comparisons to determine cash flow trends. With this software, you can generate monthly invoices to simplify tenant payment collection and accept rent payments online through its payment software (although there is a small fee for doing so.)
This accounting software allows you to track real estate-related transactions, record payments from tenants, and collect fees and deposits or issue refunds. You can connect your bank account to set up any recurring payments. From the property management perspective, it allows you to record available or upcoming units while also managing tenant maintenance requests. This software not only tracks accounting data but also helps to simplify your workflow, including rental listings, tenant screenings, and online payments. With flexible options for paying rent within the software, you can see payments come in and get recorded in the same software, making it easy to use. This software is a gem for investors with a larger portfolio, although if you have over $5,000 units, customized pricing applies.
AppFolio is a streamlined property management software that incorporates your accounting software, providing one platform for multiple features. Not only does it include the features of invoicing, transaction categorization, and the ability to accept payments, AppFolio also provides one platform for maintenance, project management, and team connectivity. They also provide a dynamic customer support team to help you with any questions. With these flexible tools, you can automate and streamline dozens of processes for your team.
Yardi is a property management software geared for larger portfolios, regardless of whether they are residential, commercial, multifamily, affordable housing, or senior living. The platform provides tools to streamline expenses, maintain compliance, and gain insight into what your tenants want and need. With its variety of options, Yardi allows you to manage your assets and operations from one software system, making it easy for your team to address maintenance, track spending, and categorize expenses by property. You can also use the software for automatic invoicing, payments, and more. This software was built to be easy for teams large and small to use effectively as they streamline their processes. Yardi is also unique in that it provides tools for public housing authorities to maintain compliance.
In Summary
Ultimately, the best accounting software for real estate investors depends on your budget, the size of your portfolio, and whether you need additional property management features. If you are looking for more customized features for managing your portfolio, then look for software with those integrations but keep in mind that will impact the costs. If you have a limited budget, then using basic accounting software can be a way to track your expenses and income effectively. The best accounting software for real estate investors is one that meets your accounting needs and provides the tools to effectively track the expenses and income from your properties.