As a consultant, you play a key role in helping other businesses thrive by giving them the benefit of your expertise and knowledge. There are multiple consulting businesses that play a role in the success of their clients. Your consulting business provides trusted and experienced advice but also handles a range of essential and practical tasks that aid them in expanding their business. Since your role as a consultant is key to their success, it is important that you have the accounting tools in place for you to be successful.
With your business growing, tracking your expenses, invoices, and billable hours becomes essential to understand the financial health of your business. Technology provides a variety of software options that can combine your billing with your payables, allowing you to track the overhead of your company. How can you choose the right one to fit your needs?
It starts by understanding that your consulting business provides a service, which means tracking different financial aspects because you don't have a traditional physical product line. Various accounting services can include options to track projects, including giving you the ability to bill your clients based on hours throughout the life of your project.
Your clients depend on you to provide any of these tasks, including:
IT services
HR services
Supply chain management
Marketing
Creating business strategies
Many accounting software options can also be integrated with your project management software or even offer a project management software of their own. Another benefit of these accounting software options is that your business is organized and ready for tax season. When you can easily show your clients what you have accomplished and billed for, then you can build trust and create long-term clients. With a wide variety of options, determining the right fit for your consulting business starts with knowing what each one offers.
Let's dive into accounting software for consulting businesses and how you can find the right one to fit your needs.
What To Consider When Choosing a Software For Your Consultant Business:
Scope of Your Business – What are the primary tasks that the software can perform? What other functions might you need as your business grows? Can you use the software in collaboration with your bookkeeper?
Training – Does the accounting software offer a training course for your employees or bookkeeper? Does it fix bugs and offer updates or enhancements? If not, then your business might be limited in what it can get out of that software solution.
Cloud hosting – Can you use that software in the cloud, making it easy for your bookkeeper to work in the software? Does it offer remote data access and custom storage solutions?
Cost – Depending on the accounting service, your monthly fee can range from $10 to several hundred a month. Knowing what features are included in your monthly cost can help you to determine if it is the right software for you.
Support – If you have questions, does the software offer support? When is that support available? Checking the quality of support before you commit to accounting software for your consulting business is essential.
Keep in mind that each software offers different tiers and options, which can impact the monthly cost. Additionally, each of these software options provides room for you to customize your plan to fit the current needs of your business. Plus, if you are looking for financial support ahead of tax season or advice for putting the right tools in place as you expand your business, then many of our accounting software options can give you multiple choices.
Let's explore the top 5 accounting software for consultants and how they can work for your consulting business.
Top 5 Accounting Software for Consultants
Below are the top 5 accounting software options for consultants. Each of them offers choices and plans that support future growth and improve client interactions. Let's explore the various price points and options available.
1. QuickBooks Online
Best for: Small to mid-size businesses, consulting, and freelancers
Pricing: Tiered monthly pricing based on options
Description:
Quickbooks Online provides a variety of services geared toward consulting and professional services. They offer a free expert setup, allowing you to have multiple users, payroll, tax deductions, receipt capture, and invoicing as part of your plan. There are also options to expand the software based on the future needs of your business. With its cloud-based software, Quickbooks provides a simple way to collaborate with your bookkeeper or service.
2. Xero
Best for: Small businesses and professional services
Pricing: Monthly tiered pricing and all plans cover the accounting essentials with room to grow
Description:
Xero provides a number of tools within its accounting software to capture data, including its Hubdoc for pulling bills and receipts right into the software. For consulting businesses, Xero also offers the ability to track consulting projects, including quotes, invoices, and payment using their job tracker software. With multiple accounting options, including managing fixed assets, sales tax, and more, Xero gives you the tools for your business and accounting software that expands as you need more tools at your disposal.
3. FreshBooks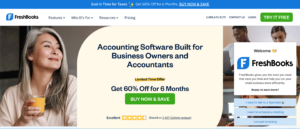 Best for: Small Businesses and Professional Services
Pricing: Monthly tiered pricing or custom pricing based upon specialized features
Description:
FreshBooks offers multiple options meant to support your business, including estimates, proposals, projects, time tracking, client profiles, and account statements. With invoicing and bill payment, Freshbooks provides all the options for a growing consulting business. Business health and financial reports are also available, giving you the ability to see where your cash flow is and where your money is going. With various invoicing and payment options, FreshBooks is easy for you to navigate and makes it simple for you to collaborate with your bookkeeper or accountant.
4. Sage
Best for: Small and medium businesses, construction and real estate
Pricing: Pricing is based on business size and products
Description:
Sage provides an advanced financial management platform for professionals with growing businesses by providing accounting, finance, and payroll options. They also offer native-cloud accounting software but also a desktop version that can easily be connected to the cloud. Sage offers billing and time tracking software, along with HR components, to make it a full-service software for your consulting business.
5. Wave
Best for: Small businesses, consulting, and professional services
Pricing: Custom based on your options; Invoicing and payments are free
Description:
Wave is designed for a consulting business, with a dashboard designed for ease of use. Additionally, they offer advisors from bookkeeping to payroll coaches. Wave is a cloud-based accounting software with invoicing, payments, accounting, and payroll options. It also offers a budget-friendly option for consultants just starting out, with several parts of the software available for free. Wave can also connect with your bank, giving you a real-time view of your finances.
In Summary
Growing a consulting business involves building relationships with your clients. They need to trust you, and that involves spending time on their projects. With the right accounting software, you can stay on top of your bookkeeping and finances without sacrificing client relationships. Our top 5 accounting software for consultants each offers project tracking and other billing options that fit the needs of a consulting or service business while helping you to build a trusting relationship with your clients.
When you choose your accounting software, it is important that they provide support services to address any potential issues. Since all of these options are cloud-based, you also have the benefit of being able to give your bookkeeper or accountant access to keep your finances up to date. No matter what you choose, the goal is to find the right fit for your consulting business, both for its current needs and future growth.