Building a strong business requires owners to wear multiple hats, from sales and HR to marketing and accounting.
Naturally, you excel at sharing with your potential customers why they should do business with your company, but that doesn't mean you excel at the administration aspects of your business, including understanding and handling the financials.
Making the process simpler for small businesses today are various accounting services for small businesses.
But what does an accounting service offer, and how can your business benefit?
What can an accounting service do for your small business?
There are a variety of benefits that come with using an accounting service for your small business.
Since handling your financials is an essential part of your business, finding ways to efficiently address your accounting needs involves more than just saving time.
Outsourcing accounting services can be a cost-effective alternative to hiring an in-house accountant since you don't incur the costs of recruitment, onboarding, salary, and other benefits.
Here are just a few of the other advantages:
Provide your business access to expertise in multiple areas, allowing you to tap into that expertise as you make strategic business decisions.
Ability to quickly analyze financial data, generating necessary reports in a timely fashion.
Ensure accuracy in your financials, which can keep your business in compliance while also avoiding costly penalties and late fees.
Regular tax reminders, including the amounts and due dates, reducing the risk of non-compliance.
Experts can also assist in developing critical strategies for lowering your tax obligations, which can include allowable deductions, different methods for calculating profits, and even determining the best approach for capital investments.
Accounting regulations and tax deductions are part of an ever-changing landscape. With up to date and accurate financials, you can take advantage of recent tax deduction changes and maximize your returns.
Develop systems for better management of your cash flow, helping to reduce late payment fees from your vendors and suppliers, which can improve profitability over time.
Growing your business strategically means understand its financial health and how that impacts your ability to take advantage of opportunities or adapt to industry and economic shifts.
With a greater understanding of how accounting services for small businesses can benefit your company, let's dive into the best accounting services we found and what stood out about their offerings.
Best 11 Accounting Services for Small Business in 2023
Best for: Small entrepreneurial businesses
Pricing: $299 monthly for the essential plan; $399 monthly for the premium
Annual pricing plans are available
Description: While they provide traditional monthly accounting services, tax services, and filing options, plus one on one expert advice, Bench also offers catch-up bookkeeping. For small businesses that struggled to keep up with their bookkeeping in the past, this option is a great way to get your financial house in order.
Best for: Franchises
Pricing: Based upon your business' monthly expenses
Description: With dedicated CPAs, Xendoo provides accounting services for e-commerce and franchises, while offering catch up bookkeeping. They also offer a dedicated bookkeeper for your business, which allows you to build a relationship and ask critical questions. Xendoo also supports multiple industries, so they can assist you in building a strategic financial plan.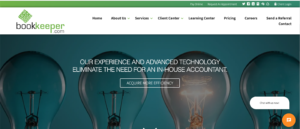 Best for: Small businesses with employees
Pricing: Based on gross revenue
Description: Bookkeeping.com offers multiple options to customize the service to fit the needs of your business. Additionally, they provide payroll options, giving you the ability to outsource payroll efficiently. Plus, Bookkeeping.com supports a bill pay option, making it easier for you to manage your cash flow.
Best for: Small businesses utilizing Quickbooks
Pricing: $190 per month
Description: Merrit Bookkeeping provides a cost-effective option for small businesses, offering tax and bookkeeping services with an easy-to-use interface. With fixed and predictable pricing, your bookkeeping can be completed monthly, keeping your financials on track. Offers an option for catch-up bookkeeping if you are behind.
Best for: Ecommerce businesses
Pricing: Custom pricing based on transaction volume, number of bank accounts, and additional services as required
Description: EcomBalance provides accounting support geared toward e-commerce businesses. They also offer a dedicated bookkeeping team to work with as you build your business. With regular monthly reports and great support, this accounting service provides financial support for the maintenance and growth of your online business.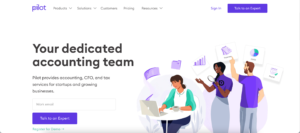 Best for: Startups and growing businesses
Pricing: Based on monthly expenses and whether your business is revenue generating
Description: Not only does Pilot provides accounting services, they also offer a CFO function, giving you the opportunity to tap into expertise as you strategically plan the future of your startup. Pilot assists with R&D tax claims, allowing your business to maximize its R&D efforts.

Best for: New businesses, growing businesses
Pricing: Tiered pricing based on your business needs
Description: Working with businesses at all stages, 1-800Accountant offers full-service accounting, from bookkeeping to payroll. They also can assist with setting up an LLC for a new business and getting an EIN to prepare for any tax filings.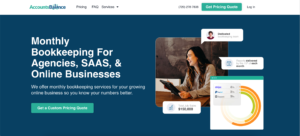 Best for: Agencies, SAAs, and online businesses
Pricing: Custom pricing based transaction volume, number of bank accounts, and additional services as required
Description: AccountsBalance provides dedicated bookkeeping services geared toward your business, offering customized services that fit your needs. Options includes payroll, bill pay, AR, AP, and monthly bookkeeping. With a variety of services, AccountsBalance supports your business as it grows while recognizing the unique challenges of the online industry.
Best for: Small businesses in a state of growth
Pricing: Custom pricing based on size of your business
Description: Bookkeeper360 offers traditional accounting and bookkeeping services, but also gives you the opportunity to tap into CFO advisory to create financial and business plans, including capital deployment and margin analysis, to assist in strategizing for the growth of your business.
Best for: Small businesses looking an accounting software and accounting service
Pricing: Custom pricing starting at $30 per month
Description: Quickbooks Live offers the traditional benefits of Quickbooks software with a Live Bookkeeper, who is assigned to your business. Your bookkeeper, each of which has at least 10 years of experience, is available for video chats to answer questions and support your business through the initial setup of your financials, payroll, and tax season.
Best for: Small businesses
Pricing: Custom pricing based on the needs of your business
Description: FinancePal offers full service accounting, including payroll, tax preparation, and monthly bookkeeping. They also partner with industry leaders to offer the best tech, expertise in a variety of industries, and quality customer service. FinancePal allows you to choose the options and level of service you want to fit your budget.
In Summary
Accounting services for small businesses offer the support that your business needs to thrive, regardless of the industry. However, it is important to note that some accounting services target specific industries or small business types. Analyze if the service offers the right mix of options, since you want your accounting service to be able to grow with your business.
If you are unsure that accounting services for small businesses will fit your budget, many of the companies in this article have custom pricing options that allow you to target the areas where assistance is needed. Give your business the gift of quality accounting services to maintain its financial health over the long-term.